Get the gross out of your grass!
Now that you've installed your turf, think your job here is done? Think again.
Without proper maintenance, odor and grime get trapped just below the surface of your turf.
But don't worry, OxyTurf synthetic turf cleaner-deodorizer will take care of the problem!
Shop Products
Introducing a powerful synthetic turf cleaner that eliminates odors using the trusted ingredient Accelerated Hydrogen Peroxide.
OxyTurf knocks odor and grime without soaking your turf in chemicals!
Benefits of using OxyTurf:
• One step cleaning - No pre-cleaning or rinsing needed
• Powerful cleaning action wipes out odor causing germs
• Cleans without leaving behind a dull residue
• Bleach-free and safe for daily use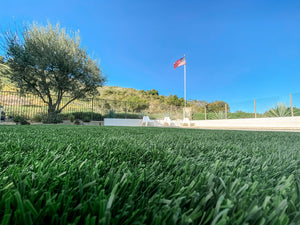 Keep your Synthetic Turf as spotless as your reputation!
Use OxyTurf products to eliminate grime and e odors in your yard, on your sports fields, play grounds, dog runs and kennels. OxyTurf starts working on on contact!
We let our customers speak for us!